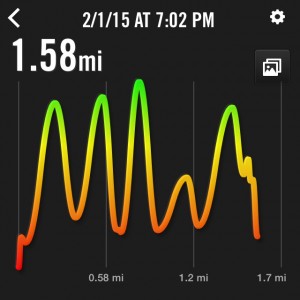 It took a lot of effort to get me down to the gym and on that treadmill for run #31. I used to do my workouts in the morning, but for the last two or three weeks, I've been working out in the evenings because I haven't been waking up as early as I was before. This morning, I slept in and I slept in GOOD. I must've needed it. Then I had to prep for my Sunday funday feast with my ex (yeah, that's a whole different story), took another nap after lunch, and then began cooking.
Food is still my weakness. I didn't stuff myself silly because I knew I wanted to try and get a workout in before the end of the day. We just had chips and queso and ribs. Not quite an athlete's meal, but it was Super Bowl Sunday and even though we weren't watching the game, we wanted to eat like we were.
Usually my pace is 2 minutes running, 2 minutes walking. Not only was I able to manage 3 minutes running, and 3 minutes walking, but for the last leg of my run I was able to squeeze out 4 minutes of straight running. Yes, 4 MINUTES!
And the thing is I probably could've gone for a bit longer, but my right foot was beginning to hurt and I didn't want to push myself too far.
Speaking of injuries, the heel spur in my left foot is almost 95% gone, maybe more. I barely felt it today on my run. Yesterday I bought a bottle of MSM and Glucosamine and so far that's made a huge improvement. At this point I can only expect better things to come.
[table id=3 /]