It's been another 3 weeks since my last update. The weather has still been mostly cold and occasionally rainy. We've had some freezing temperatures some nights, and some days in the upper 60s. Like typical Texas, the weather has been all over the place.
Watering Schedule and Incorporating an Irrigation System
Last weekend, I checked on the status of the garden and I realized that my radishes are much smaller than they should be at about this time. In fact, according to the seed packet directions, they should be ready for harvest right about now. However, from what I can tell, they're just now showing signs of their true leaves and their bulbs are still pretty weak and spindly. What gives?
After much research, I realized they've been under-watered.
I looked back through the precipitation records for my area at Wunderground and what I thought seemed like a weekly occurrence of rain for almost a month turned out to be an average of less than half an inch of rain per week. That was well below the recommended watering requirements for radishes. That's when I realized I really needed to make watering an automatic thing.
I purchased a small garden irrigation kit from Dripworks last weekend. It shipped fast and literally arrived on my doorstep yesterday afternoon, so I've only opened the boxes and flipped through the catalog they included in the package, but at some point I'll probably write a post about the setup.
Running Out of Indoor Growing Space
My indoor growing inventory has gone from a few seedlings here and there to a whole arsenal of plants including pollinator flowers. You can imagine how my limited indoor growing space has gone from manageable to completely out of control. All of my seed starts sit on a shelf in my office, but lately it's expanded to another shelf with two auxiliary grow lamps propped up in whatever way I can get them to stay. My potting table is actually my craft desk. I can't count how many times potting soil has ended up on the floor.
I'm starting to consider alternatives, like moving my seed starting to the garage. The only thing is the cats love to nose around out there as well. We also have limited electrical outlets and I'll need one dedicated to grow lamps. Yet another project on the horizon.
What We've Harvested and What We've Planted
Because of the cold weather and my inconsistent watering, growth has been a little stunted. However, I have managed to harvest some lettuce for a lovely salad and kale for a mushroom pasta dish. I'm also harvesting herbs on a regular basis. Below is an egg dish that I made using chopped ham, a touch of yogurt, chopped mushrooms, and fresh herbs.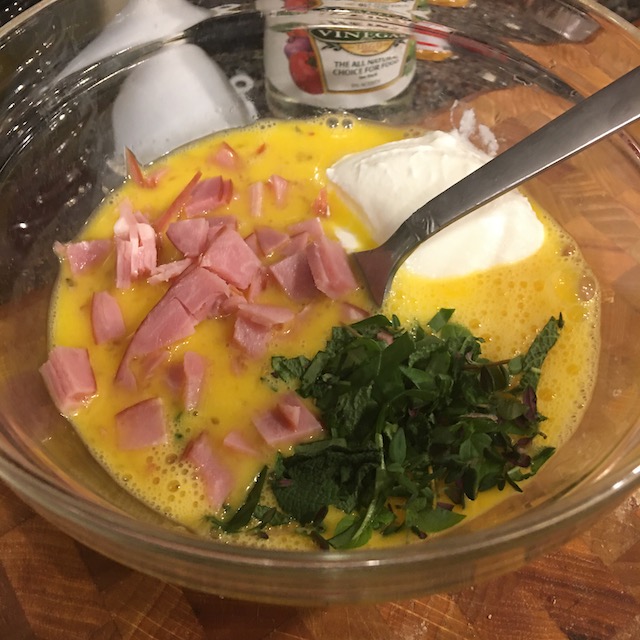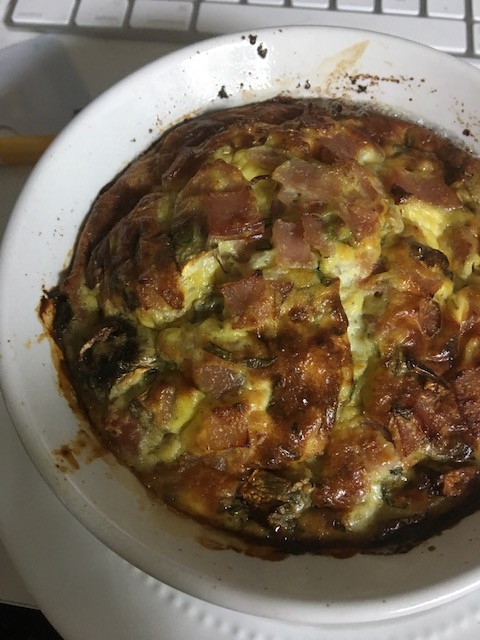 Despite some of the challenges, I'm continuing to plant as scheduled. Here's what's sowed into the garden and indoors:
Nutri-red carrots
Green onions
Shallots
Sugar snap peas
Spinach
Golden wax bush beans
Tendergreen bush beans